Memoir Writing, by Donna Kaz. On November 1, 2016 my book, UN/MASKED, Memoirs of a Guerrilla Girl On Tour, was published. On November 8th , Donald Trump was elected the 45thpresident of the United States. Two days later I had a reading and book signing scheduled at Blue Stockings Book Store – a clearinghouse for radical ideas on the Lower East Side of Manhattan. During the Q and A, every question focused on understanding how one could push back against a president they feared would threaten their rights and the rights of others.
Since 2016 I have not seen a let up in people's need for information about how they can effectively participate in creating change. I have traveled from Montana to Decatur to Portland to Patterson and points in between speaking about how I, as and activist member of Guerrilla Girl and Guerrilla Girl On Tour have used my creativity and wit to make a difference. Memoir Writing can help you think about ways you can make a difference and get involved then PUSH/PUSHBACK is for you.
Most of us are born with creative DNA, are pissed off about something and are searching for a way to change the world, PUSH/ PUSHBACK is an insiders look at what went behind the posters, protests, fax blitzes, speak outs and street theatre actions the Guerrilla Girls used to attack and expose sexism and racism in the theatre world and beyond. It uses memoir writing and my personal stories from the front line of activism to formulate a step by step guide to the art of collaboration: how to huddle up, gather evidence, tap into your own expertise to generate ideas, use humor, be intersectional, fund projects, ensure response and guarantee momentum. It shows how personal storytelling can weave together the fabric of a movement designed to effect change.
As a Guerrilla Girl and Guerrilla Girl On Tour, I created collaborative work that was used to address specific social issues effecting women and people of color. Coming from a theatre background, I was familiar with how to make collaborative art. The Girls were grassroots, ad hoc, unorganized and messy. We were also focused, funny, full of energy and fresh creative ideas. I used memoir writing to share the tactics I used as a Guerrilla Girl and Guerrilla Girl On Tour. In it, I encourage everyone to copy the "Guerrilla" style, use the tactics that work for you and toss the rest. I remind all readers that the hardest part of making activist art directed at one issue is following through and sustaining momentum.
Let's face it. The world's gone bananas. But we got this. Let's push back and make it right again.
NOTE: In addition to being an ebook, PUSH/PUSHBACK is an interactive lecture. For more information on that click here.
Inspiring, insightful, hilarious and fun – PUSH/PUSHBACK challenged the audience to think about how misogyny and sexism infiltrate the arts and left us with ideas about how we can use activism and art to change the world. – Missoula Art  Museum
"UN/MASKED, is a vivid memoir of an eager, energetic woman of the theatre confronting sexism in love and art. It's also a rare first-hand account of life inside the famed Guerrilla Girls, those gorilla-masked artists and performers who made feminist protest daring, original and fun." –

Katha Pollitt, The Nation Columnist, poet, essayist and author
"Fierce, funny and shrewd, much like the Guerrilla Girls themselves, Donna Kaz aka Aphra Behn has written a memoir filled with so much hope and frustration it's impossible to put down. UN/MASKED is a page-turning how-to about changing the world, and the challenges therein."

– Theresa Rebeck, playwright (Seminar), television writer (Smash) and novelist (I'm Glad About You).
"I loved UN/MASKED, by a woman with dreams that don't get realized but she makes her life work, no matter what, and tells her story with such honesty and clarity. An incredible achievement. It is unique, original and Donna Kaz/Aphra Behn is what Arthur Penn would say, somethin' else." 

– Estelle Parsons, Oscar winning actress
"UN/MASKED is more than a wildly entertaining snapshot of 80s art culture. More than an answer to the question of, "Who were those crazy feminist activists behind the gorilla masks?" It is a generous, fearless, often hilarious coming of age tale that takes Kaz from being a victim of domestic abuse in Hollywood to becoming an artist and part of one of the most unforgettable art protest groups of our time." 

– Elissa Schappell, author of "Use Me" and "Blueprints for Building Better Girls"
"UN/MASKED is a unique chronicle of an artist/warrior's journey through love, politics, creativity and violence, from someone who has lived through the social issues of our time. A compelling read and ride written in the voice of both an observer and participant of an engaging and relevant life." 

– Patti Occhiuzzo Giggans, Executive Director, Peace Over Violence
"In alternating chapters and eras, UN/MASKED divulges a Guerrilla Girls' secret lives. In the '70s Kaz/Behn's public identity was that of a struggling actress and girlfriend of a famous Hollywood star, while privately she was a victim of domestic violence, chillingly addicted to her life-threatening relationship. Two decades later she began a nineteen-year career as an activist with the clandestine arts gender-justice warriors The Guerrilla Girls, granting the reader a security pass into a mysterious and renowned revolutionary arts secret society. A compelling and page-turning read, and a testament that fighters for fairness and justice are not born: they are made." 

– Kia Corthron, playwright
"UN/MASKED is a rollicking ride of a memoir. Donna Kaz aka Aphra Behn takes us from Hollywood to Broadway and back with some wonderful twists and turns of real live feminist activism in between. UN/MASKED is a 21st century artist turned activist success story for the rest of us." 

– Kate Bornstein, author of A Queer and Pleasant Danger
UNMASKED is memoir writing for a time, not so long ago, when feminism was aspirational. It was a precarious place to be, and one Kaz looks back on with rueful maturity. UN/MASKED is an honest memoir. It reveals the collaborative nature of theater with gusto." 

– Women's Review of Books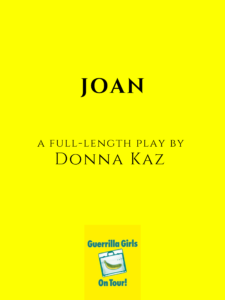 The story of the young peasant girl who led an army to help crown a king and was burned at the stake for her efforts, JOAN incorporates movement and sound which flow like a live-action montage that switches genres and settings in a flash, resulting in a dynamic and exhilarating play based on historical fact. 60-8 minutes. 2-6+ males, 3-10+ females (6-16 performers possible). READ AN EXCERPT HERE.
For the first time, the content of this classic book was chosen as a result of a playwriting competition with three winning categories. Among the first place winners is Donna Kaz's "Stamina," where two 81 year old women attempt to become the oldest women to summit Mount Everest.
Nasty Women Poets, An anthology of poems from women who proudly celebrate their own nastiness and that of other women who have served as nasty role models; poems by and about women defying limitations and lady-like expectations; women refusing to be "nice girls;" women embracing their inner bitch when the situation demands it; women being formidable and funny; women speaking to power and singing for the good of their souls; women being strong, sexy, strident, super-smart, and stupendous; women who want to encourage little girls to keep dreaming.
Veils, Halos & Shackles, the first-ever anthology of international poetry specifically addressing the oppression and empowerment of women, includes more than 250 extraordinary poems from every continent, contributed by some of the world's most accomplished living poets. Many are themselves survivors of rape and other gender-based crimes; others are grandmothers, mothers, daughters, friends, and teachers of victims and survivors.
The writings in this anthology serve as testament to the cultural love, bordering on obsession, of the American cowboy. These works cover the gamut, from the romanticized movie cowboy to ranchers, freelancers, and contemporary wranglers who wear hoodies and work in massive feedlot pens.
Best 10 Minute Plays of 2019
Veils, Halos and Shackles
Even Cowboys Carry Cell Phones